THORNTON BROTHERS INC. COLLISION CENTER
Our Services
Auto collision repair
Auto glass replacement
Free Estimates
Auto Painting and dent repair
Towing service
Rental cars
Contact Us
473 Main St
Lincoln, ME 04457
207-794-8600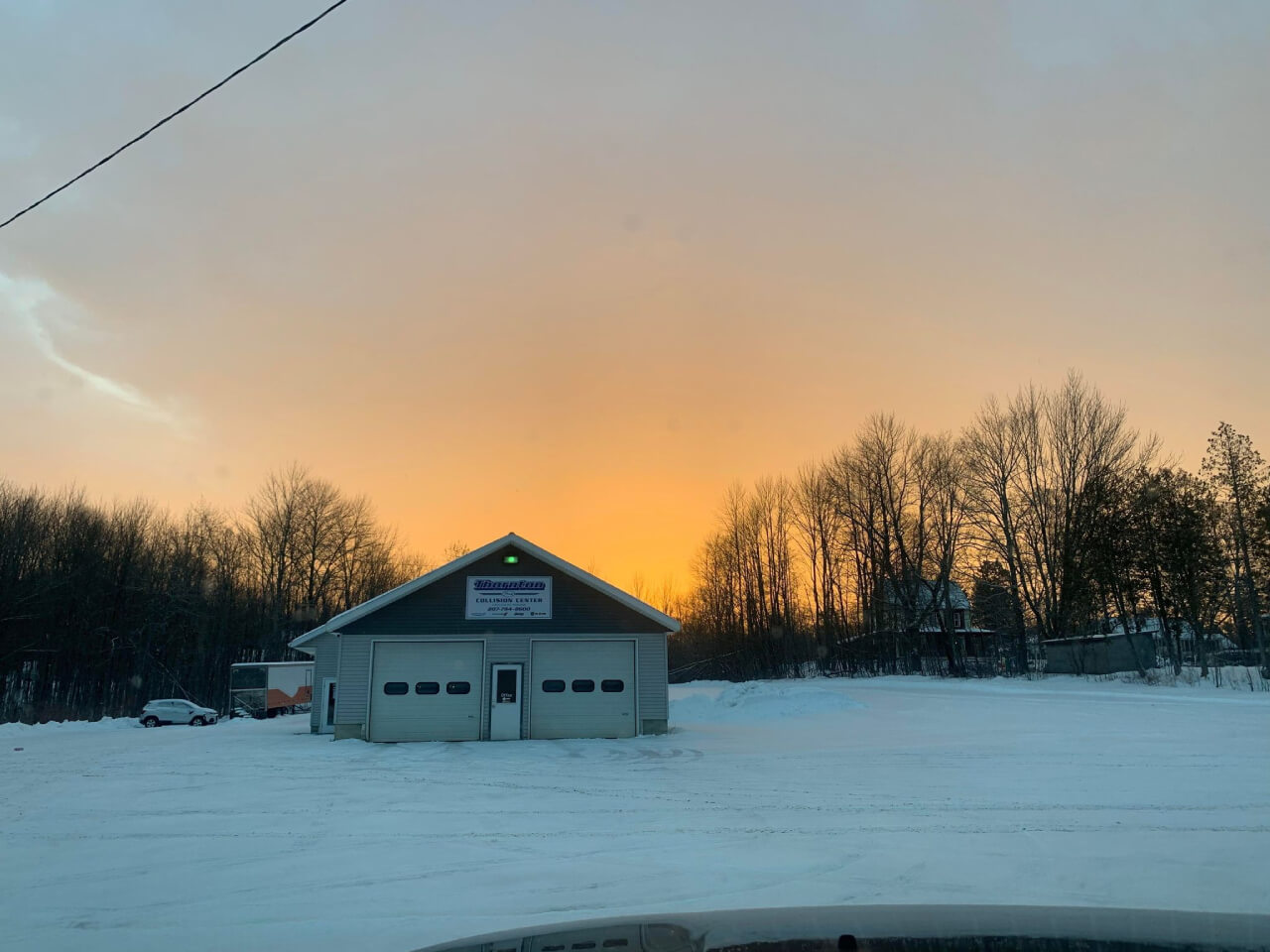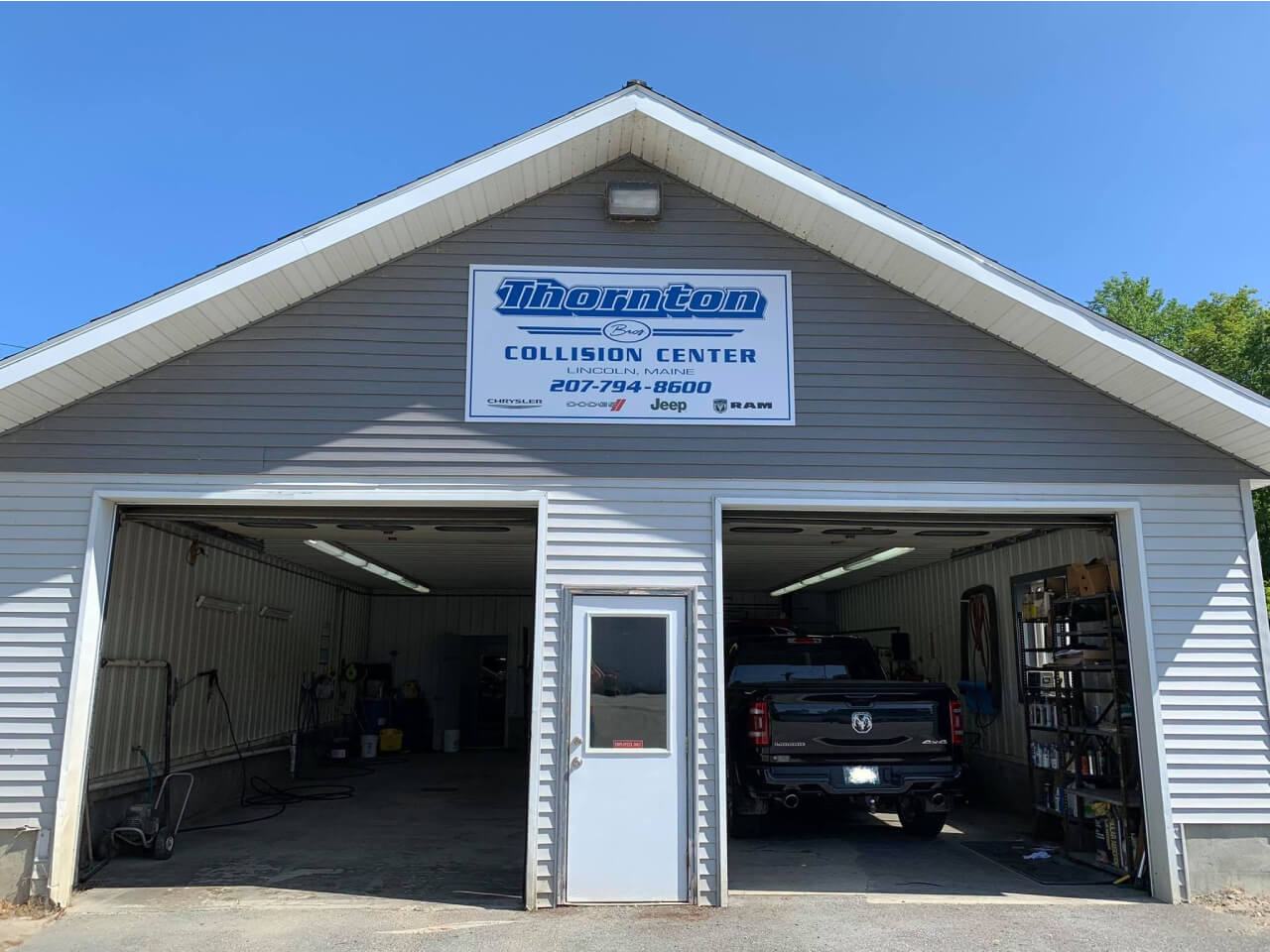 Lincoln, Maine Auto Body Repair Shop
Vehicle collisions aren't just disruptive for your vehicle until they are repaired they alter the rhythm of your everyday life. If your goal is to get back behind the wheel as soon as possible, look to the certified technicians at Thornton Bros Collision Center for exceptional service and get your vehicle back asap.
What types of vehicles are repaired at Thornton Bros Collision Center auto body shop?
At Thornton Bros Collision Center, we offer a wide array of repairs, including everything from small dents and dings to complete collision repair. Our skilled technicians have the know-how to repair various makes and models, including luxury cars.
What type of training do Thornton Bros Collision Center's technicians have?
Our techs boast extensive training in vehicle repair. They are both Collision ASE and FCA Certified. Additionally, our technicians complete regular training programs to ensure they approach all jobs with the best training and tools available.
Are repair warranties available?
When you have your vehicle repaired at Thornton Bros auto body shop, you can rest assured, knowing that it is covered by a written lifetime warranty.
What types of insurance are accepted?
Regardless of your preferred insurance company, you can get your vehicle repaired — and get those repairs covered — at Thornton Bros Collision Center. We accept all types of insurance.
How can I schedule an appointment?
Scheduling an appointment is easy — simply call us at 207-290-8281 or schedule an appointment online. We will get you back on the road as quickly as possible in a vehicle that not only looks good but is safe for your family's needs.
CDJR Factory Trained Technicians

We use state-of-the-art equipment authorized by all manufacturers.

We Handle the Entire Claim Process

Thornton Bros Collision Center works with all insurance companies. We will process the claim for you and handle all insurance-required inspections.

We Work for You – Not the Insurance Company

After a collision, insurance companies often refer their clients to an insurance-affiliated collision center that serves the insurance company's best interest, not yours. These centers aim to keep the cost per claim at a minimal cost.

While Thornton Bros Collision Center works with all insurance companies, we are here to serve your family's best interest. We complete all repairs to CDJR factory guidelines, offering customers to bring their vehicle back after 30 days for a free complimentary repair inspection and carwash.

We Use All Original Equipment Manufacturer CDJR Parts

We complete all repairs to factory procedure guidelines, using tools and procedures designed from vehicle blueprints for complete accuracy.
Why Choose Authentic Mopar® Collision Repair Parts?
That's simple. Our parts have been engineered exclusively for Chrysler, Dodge, Jeep®, Ram, FIAT® and Alfa Romeo vehicles. So your vehicle will not only look great after a repair, but also provide a safe and reliable ride…no matter where the road of life takes you. Watch the video below to learn more about how Mopar® parts offer peace of mind for your drive.
The Mopar® Difference
Repairs after a collision affect the safety and performance of your vehicle, not just how it looks. By ensuring your repairs are made using Mopar® collision parts over aftermarket ones, you'll have the advantage of quality parts engineered to fit and function specifically in your FCA US LLC vehicle. So be sure to check whether your insurance policy includes coverage for authentic OEM parts. See below for a few examples of the Mopar® Difference.
Why Choose A FCA Certified Collision Repair Facility
If your Chrysler has been involved in an accident, schedule an appointment at Thornton Bros Collision Center today. We use genuine Chrysler parts engineered to fit and function properly, and our technicians are trained on the methods Chrysler recommends for vehicle repairs.
Whether it's a fender or a headlamp when a part fits right, it performs better, It's really that simple. Take Mopar® glass, for example, because the windows are designed specifically for FCA US LLC products, they have the optimum fit for your vehicle, which can prevent various problems in the long run.